Prince of Persia: The Sands of Time Movie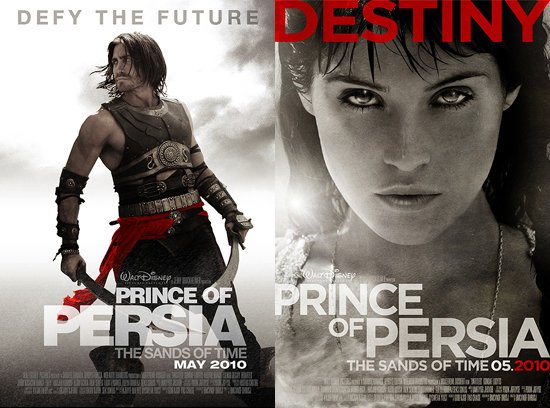 Keywords: Movie, Prince of Persia, the vizier, Gemma Arterton…see the trailer first:
After a long anticipation, a trailer for this movie adaptation based on the popular game series created by Jordan Mechner, finally arrived. Prince of Persia: The Sands of Time soon to be in the cinemas May 28th next year, starring Jake Gyllenhaal as the Prince (Prince Dastan to be precise) and other characters portrayed by Gemma Arterton, Ben Kingsley, Alfred Molina and many more. Jordan Mechner worked in this film making the screen story with Boaz Yakin.
You know, I've been waiting for this since the buzz about the game adapted into movie in 2006 (I think…). At that time, many fans picked up what they called "candidates" for the prince role. Later on Jake Gyllenhaal got the role to my surprise, and many fans vent their dissatisfactions but some others seem to like him carrying the role. I was feeling 50:50 about this, but Jake has been doing a lot of work to fit the role like getting a long hair, grow facial hair and all lots of workout to get in great shape. See..
On the other hand Gemma Arterton is such a babe so I have no objections on what role she takes.
What I saw in this trailer,  a weird looking Dagger of Time, gorgeous Gemma Arterton, the Vizier looks young(those who have been playing the game will know why) ..ok, here is the picture.
And this film is pretty much mixed up with all the Prince of Persia series. Firstly POP: The Sands of Time as the main ingredient/setting, next I see the prince seen with POP: Warrior Within attire (Don't know if the chest piece have any function)
and there's a scene where the prince becomes what it looks like to be the Dark Prince as seen in POP: The Two Thrones. What I still question is how the prince will use the time manipulating Sands of Time, and how he performs that crazy acrobat skill as shown in the game series.
You may ask me, did you even played the game before? Yes I did! Except the POP: The Sands of Time (blame my low computer specs). I enjoyed much on the plethora of skill and technique to cut the enemies in POP: Warrior Within and it's my favorite series from the three. Also love the silent kill technique in POP: The Two Thrones, but it's kind of disappointing because of short gaming time.
Anticipation for the movie is growing, for this I will go to the cinema to watch it, disappointment or epic, I will see it through my own eyes only with popcorn and soft drink stuffed in my mouth…om nom nom nom.