HobbyCon 2014: Victory Fanfare
The memories of HobbyCon 2014 is still fresh in my head. I'm back as volunteer for Zack's table top game corner, and be a photographer and cosplayer in the same time. Althought the event experienced some setback, the organizing committee and the community itself held on together and make it awesome nonetheless. This shows how much we all love HobbyCon, and as for me, it was a superrr new experience to finally be a cosplayer.
Attack on Dragon's Lair
I was made to understand that the Gym hall was called the Dragon's Lair back in HobbyCon 2013. Due to some miscommunication, HobbyCon 2014 venue was forced to shift to Gym hall which had little air conditioning, and reshuffled the layout entirely.
Living up to the name, it was really hot inside, adding that up with torrents of people coming in on Day 1. Most visitors and cosplayers would take a break outside after their venture through the Dragon's Lair.
Event with complications, I saw the determination in the eyes of the committee members and volunteers to see this event goes as planned. Johan Julian, HobbyCon president, kept calm and cool while looking over the event. They really did a great job, max respect to all of them.
Cosplayers from Sarawak, Brunei and also West Malaysia joined in the battle… I mean fun. From enjoying great childhood reminisce moments, headbanging to Guitar Hero demo, enjoy watching cosplay competitions, HAPPY! mob dance and the epic performance by Hikaru band, the experience was worth sweating over. 😛
A very special thanks to these 2 Cosplay Corps @ Major Minor Cosplay Repair Captain & Cosplay Medic, without them, my cosplay experience would be a disaster.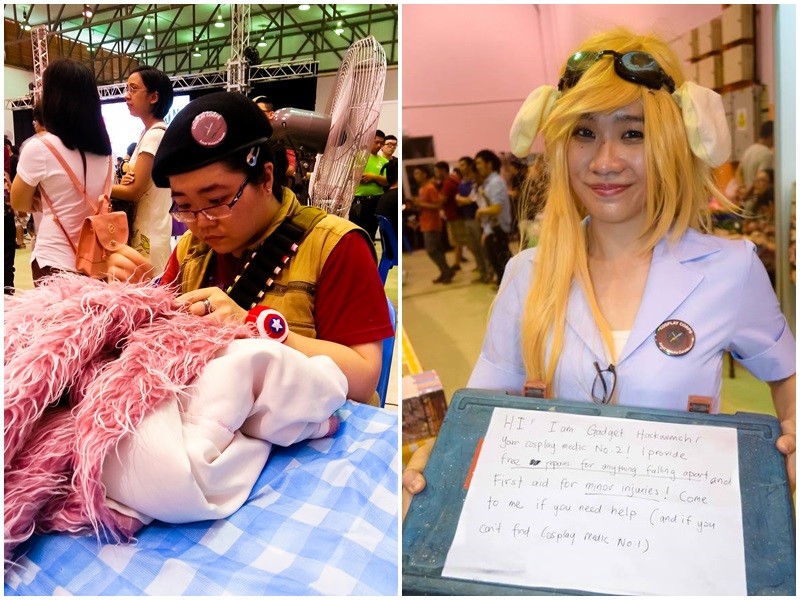 In the end WE SLAYED THE DRAGON!!
VICTORY!!!
You guys can check out my HobbyCon 2014 photo album on my Facebook page, The Rungitom
Great playtime at the table top gaming corner
I didn't expect visitors would stay long inside to play table top games, I was wrong, very wrong. Throughout Day 1 and Day 2, Zack ups the Tok Tok Wood game with 1.5 and Double Tok Tok Wood mode. Jack opened all expansions for King of Tokyo because it was getting so fun to play it, at one point, a little boy practically owns the game!
Another game called Get Bit was also played in-between, all fun and games lasted until the very end. If you missed the fun last HobbyCon, come back this year and look out for the table top game corner with your friends along. Because this game is best enjoyed together. 😉
Cosplayed
Early in 2014, I mentioned that I would be cosplaying as Iron Man, well.. that got shelved. Its not until September that I renewed my cosplaying mojo when my friend Phoenixz invited me to cosplay as Donquixote Doflamingo from One Piece.
For a first timer, I asked around and do a lot of research while keeping in the budget. The costume I made was the best effort based on my research, experience, budget and some risky experiments. I'm glad I could pull off the cosplay and had my awesome time. With much more room to improve, I will come up with better and well build cosplay stuff for 2015.
Here are some photos of me, the first time cosplayer in HobbyCon 2014, credits goes to Pandagraphy, Leonara, Leo Ferris, Joan Tseu, Phoenixz,Kei Mei Kasiena, Rahman Sani, Mohd Hazlan and Mauw Excalibur for the great photos. 😀
Dem we-fies
Yeah, the event experience will not be complete without a few… I mean lots of we-fies. Its a part of my enjoyment in HobbyCon, thank you for being a part of my we-fies. 😀
There are a few things that I missed during the event day and surely lot of things I need to improve for the future. To the committee members and volunteers, thank you for your efforts to make HobbyCon 2014 smooth and successful.
Until next time, see you in HobbyCon 2015!
What do we say about giving up? NOT TODAY